Our current newsletter

Fourth Quarter, 2016


Note
This is an OPT-IN newsletter. In order to get future issues you will need to subscribe.

If you do not wish to receive any more issues of this newsletter, no action is required on your part.




Robert Smola, Manager, Enterprise Supply Management Risk, John Deere
by Ravi Anupindi, Ross School of Business, University of Michigan, Ann Arbor

John Deere's mission has always been dedicated to those who are linked to the land—farmers, ranchers, landowners, builders, and loggers. The company was established in 1837, and its core values of integrity, quality, commitment, and innovation permeate its work, product quality, and service to its customers, stakeholders, and stockholders. In its almost 190-year history, John Deere has seen a great many changes in its business, products, and services, expanding its footprint to many corners of the world. To meet this growth, John Deere runs a globally dispersed supply chain. The task of ensuring the provision of enterprise risk management services for the company's global supply chain falls on Robert Smola, John Deere's Manager of Enterprise Supply Management Risk.

Bob's position is enterprise-wide, supporting the Agricultural, Construction and Forestry, and Electronics divisions. He reports to the Director of Strategic Sourcing at John Deere's corporate offices. Bob owns the supply management risk strategy, processes, and tools and supports supply management professionals around the world to properly identify supplier risk and provide mitigation strategies where appropriate. He leads Deere's Supply Management Risk Council, which acts as the single voice of risk management to Deere's supply management leaders. The council provides processes, tools, and metrics to manage financial, compliance, performance, event, and strategy risk.

Bob's biggest challenge is to align risk management across four global regions and three unique divisions. Supply management risk is a relatively new supply management initiative in a mature sourcing organization, and several leaders have stepped up to address risk. Bob makes sure that his team relays a consistent message to the company's suppliers and its leaders, as divisions share many suppliers. Bob's favorite part of the job is his role as company ambassador for supply management risk. He engages with several stakeholder groups, including the Supply Chain Rick Leadership Council (SCRLC), the insurance underwriters, and Deere's business continuity and financial risk organizations. This gives him an opportunity to highlight the efforts of countless supply management professionals who work together to give the company a competitive advantage in the marketplace. Bob also enjoys coaching and mentoring Deere personnel.

Bob earned a bachelor of science degree in manufacturing engineering from the University of Illinois, Chicago, and a master of business administration degree from the University of Wisconsin, Whitewater, specializing in operations and supply chain management. After a brief stint as a manufacturing engineer at Bendix Corporation straight out of college, Bob joined John Deere in 1979 and dedicated his career to the company serving in numerous roles. He was a project manager in manufacturing operations with a focus on lean manufacturing, continuous improvement, and machine procurement. His background enabled him to work directly with the Deere supply base as a project lead for supplier development. Hurricane Katrina illustrated the need for Deere to create a position in risk management, which he currently holds. Along the way, he has obtained certifications as a Project Management Professional from the Project Management Institute and a Six Sigma Black Belt from the American Society of Quality.

Following Chicago professional sports has been Bob's priority since early grade school. Of course, his professional dedication has come at a cost. Over the past 50 years he has seen just one Super Bowl and one World Series championship. He has often wondered whether he should have rooted for another city. After more than 37 years of service, Bob will soon retire from John Deere and he looks forward to enjoying the future. He recently chartered a consulting company in Illinois, My Supply Chain Rocks, LLC, which will help suppliers improve their supply management and manufacturing operations. He has also accepted the position of project manager for the Quad Cities Digital Ready initiative, which is sponsored by the Department of Defense and administered by the University of Illinois. In this role he will coach small to medium-sized enterprises to identify projects that will enable them to use data and collaboration as a competitive advantage in design, manufacture, and product delivery.

Are you Resilient? Hidden Risks in the Sub-Tier Supply Network
by Jun Li and Ravi Anupindi, Ross School of Business, University of Michigan, Ann Arbor

In the past decade, firms have encountered an ever-increasing number of supply chain disruptions, triggered by a wide range of natural and man-made causes, such as earthquakes, floods, fires, labor strikes, financial crises, and social unrest. These events have caused substantial short-term losses (e.g., production delays and increased labor and supply costs) as well as long-term losses (e.g., market share erosion and bankruptcy).

You may think that appropriate risk mitigation actions by your direct suppliers sufficiently buffer your company from more wide-ranging disruptions in the extended network. However, evidence indicates otherwise. According to the Supply Chain Resilience Report 2015 [1] , more than a quarter (29 percent) of supply chain disruptions originate from two or more tiers deep in the supply chain; this estimate is based on responses from 537 firms in 67 countries spanning 14 SIC sectors. The same report also found that a strikingly high 31 percent of organizations do not know the origin of a disruption. These findings underscore the importance of developing visibility into the sub-tier supply network to manage a company's supply chain risk. Unfortunately, because manufacturers (nodal firms) rarely have direct relationships with their sub-tier suppliers, identifying sub-tier suppliers is not always an easy undertaking. Not only is it important to know who the sub-tier suppliers are, the structure of the network that binds them together could also be important. For example, when many tier-1 suppliers share a common tier-2 supplier, the supply base contains a single-point of failure. The Japanese earthquake and tsunami in 2011 created a shortage of components from the shared sub-tier suppliers such as Renesas (a chip supplier) and Merck (a paint pigment supplier), causing month-long production delays for automotive manufacturers [2][3].

A recent study [4] completed by researchers at the University of Michigan's Ross School of Business found that such single points of failure are indeed quite prevalent in the global high-tech industry. Using Bloomberg's Supply Chain Function, the study identified 13,670 supplier-customer relationships among 4,538 global firms either belonging to the high-tech sector or supplying firms in the high-tech sector. The researchers found that, on average, 20 percent of a nodal firm's tier-2 suppliers are shared by two or more tier-1 suppliers, and 2.3 percent of tier-2 suppliers are shared by at least five tier-1 suppliers in the global supply network of high-tech industry.

For example, Advanced Semiconductor Engineering Inc., Amkor Technology Inc., Taiwan Semiconductor Ltd., ARM Holdings plc, and STATS ChipPAC Ltd. are shared by at least 20 tier-1 suppliers in a number of nodal firm's networks. Most of these heavily shared tier-2 suppliers are semiconductor companies. The researchers also indicate that these tier-2 suppliers are not necessarily tier-1 suppliers of the associated nodal firms, implying that without sub-tier visibility, nodal firms may not realize that they rely on a particular set of sub-tier suppliers. For instance, 20 of Dell's tier-1 suppliers and 21 of Sony's tier-1 suppliers source from STATS ChipPAC Ltd., which does not directly supply to any of the hardware manufacturers listed in the S&P500.

Such tier-2 supplier commonality gives rise to a network structure that takes the shape of a diamond, as shown in Figure 1. Our study proposed several intuitive measures that can be used to index the degree of sub-tier commonality in a firm's supply network.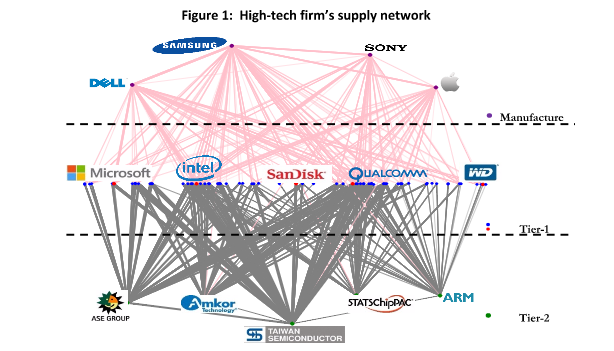 Note. This figure is a sub-network of the high-tech supply network and is displayed to highlight the tier-2 sharing pattern. Every pink link connects the manufacturer with its suppliers, and every gray link connects the tier-1 suppliers with their suppliers. Each link is weighted by cost, which specifies the percentage of a firm's procurement cost that a supplier represents.
We found that nodal firms with more heavily shared tier-2 suppliers also exhibit higher stock return volatilities. A 10 percent increase in stock return volatility of common tier-2 suppliers shared by at least five tier-1 suppliers is associated with 1.97 percent increase in the stock return volatility of the nodal firm—the effect is more than ten times larger than that when the tier-2 suppliers are shared by only (at least) two tier-1 suppliers, as shown in Figure 2.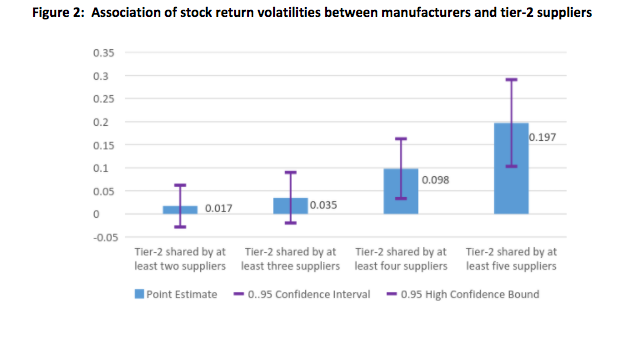 We conclude that sub-tier sharing contributes to substantial unmanaged supply chain risks, which highlights the need for firms to increase visibility into their extended supply network. In particular, firms should focus their efforts on identifying critical sub-tier suppliers that are shared by multiple immediate suppliers and manage their risks effectively.

References

[1] Business Continuity Institute. Supply Chain Resilience Report 2015.

[2] Kyodo. 2011. Manufacturers expect lasting quake impact. The Japanese Times.

[3] Sedgwick, David. 2014. Toyota asks suppliers for disaster plans. Automotive News.

[4] Wang, Iris, Li, Jun, and Anupindi, Ravi. 2015. "Risky Suppliers or Risky Supply Chains? An Empirical Analysis of Sub-Tier Supply Network Structure on Firm Performance in the High-Tech Sector," Ross School of Business, University of Michigan, Ann Arbor. Available at http://papers.ssrn.com/sol3/papers.cfm?abstract_id=2705654


Supply Chains Are on the Move!
by Chris Kushmaul, Director of Operations, AEL Span

With oil and fuel prices at record lows, manufacturing and sourcing in China and elsewhere in the Asia-Pacific region are becoming popular again. Such companies as General Electric and United Technologies reach out to emerging markets to acquire new business and grow their footprints to take advantage of lower commodity prices, cheaper labor, and open manufacturing capacity. However, these moves come with the risk of untested infrastructure and new risks to the supply chain. Buyers should consider three items to ensure that they are making smart supply chain moves:

1. Work as a team (procurement, logistics, quality, sales and operations planning, business continuity, and others) to consider different priorities when designing a new supply chain. The focus must be on the total-landed cost (TLC) not just the piece price of the part delivered to a manufacturing plant.

This is easier said than done! Many TLC spreadsheets attempt to calculate this as a single number. The truth is that the calculation is complicated and cannot be limited to include just a few categories, such as poor quality, premium freight and expediting, a mode-mix of air and ocean shipping, safety stock and "extra" inventory (think additional warehouse space, labor, and unnecessary transportation costs to start the list). Confidence in the flow of goods from one end of the supply chain to the other generates a number of questions and a range in cost and lead time that must be assessed. The spreadsheet should serve as just the starting point for a discussion.

In formal supply chain design, what options have to be built in to mitigate the effect of a risk event and at what cost? If the planned shipment mode is ocean, will shipments be flown to expedite delivery? One of the largest automotive original equipment manufacturer's had a contingency plan to immediately lease a DC-9 to fly between Europe and the United States during the volcanic eruption in Iceland and subsequent ash cloud that developed across portions of Northern and Western Europe.

Has emergency safety stock been created and how often will that be reviewed to ensure that critical factors have not changed? Is there end-to-end visibility of shipments or is it a "black hole" once the shipment is in transit? Put it this way: If a problem is known a day or week earlier, would less-expensive contingency plans and methods be available to protect the supply chain?

2. Model lead times and understand the risk of delays. For example, in some countries the customs process almost always takes 1 to2 days for clearance. In others, clearance can range from 4 to 10 days. That variation has a real effect on the delivery process!

Low-volume parts demand that exceeds or is less than the forecast can lead to either large expediting of materials (and many sleepless nights) to deliver hot parts or low demand that turns into no demand and eventually obsolescence (i.e., inventory write-off). Both situations will result in a loss of cash for a company! Bargain-shopping for low-cost suppliers in emerging markets with untested infrastructure and transportation service levels nowhere near those of developed countries can quickly become a disaster when demand soars and shipments are needed quickly before the production line stops.

3. Prepare to effectively respond to operational risks—such as a natural disaster that affects a large swath of suppliers and routes. Many companies are moving toward a command center model for risk management that is designed to empower operators and analysts to quickly handle risk events. By being more proactive and efficient, companies can maintain business continuity and improve supply chain risk management. Command centers need automatic alerts to warn that routes, suppliers, critical infrastructure, employees, and other assets are in a storm's path, so that actions can be taken quickly.

A bigger risk than suppliers can be mobile assets, because when shipments are on the move, they are vulnerable. For example, it is estimated that 10,000 shipping containers are lost at sea each year. A cyclone tracking near key ports and shipping lanes could be the perfect storm.

Timely awareness about relevant events, at-a-glance understanding of the end-to-end supply chain, and communication capabilities can empower personnel to reduce the time and costs associated with maintaining the supply chain.

With the global economic realities of free trade agreements, the low cost of resources and labor in emerging markets, and weakening currencies against the dollar, more and more businesses will continue to shop around for new and far-flung manufacturing sites and suppliers. As supply chains become more complicated and complex, best-in-class companies are embracing end-to-end visualization of the supply chain, the integration of risk data for early detection, and cross-functional teams prepared to take action and respond to protect the business. New technologies and big data in a command center environment can be leveraged to effectively manage risk.

Events External SCRM News:

[ Back to Top ]
---
Supply Chain Risk Leadership Council, 110 West Tasman Drive, Mail Stop SJCA/2/4, San Jose, CALIFORNIA 95134, USA
Copyright © 2017, SCRLC. Contact Us | Privacy Policy | Subscribe | Unsubscribe